Last Updated on
If you like chicken noodle soup then you know it's not only tasty but also quick and easy to prepare.
Do you want to share some with your pet dog?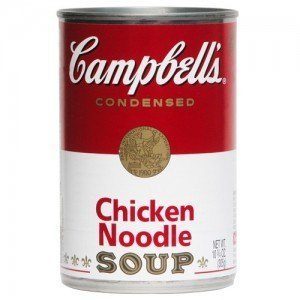 First thing's first:
You've got to watch out for the salt content Most soups, Campbell's included, are very high in sodium which is not good for any dog!
And any added garlic and/or onion will add some level of risk as well.
The point is you must carefully read labels whenever feeding canned soups.
Your Dog Can Eat Chicken Noodle Soup (but scrutinize ingredients)
Even with a quality recipe, feed this favorite only occasionally and in moderation.
Truth be told, there are typically some ingredients in store-bought chicken noodle soup that can harm your dog.
The sodium content is probably the biggest concern. Another questionable aspect for canines is Monosodium glutamate (MSG).
Of course, there are different ways to prepare chicken noodle soup. It is difficult to generalize, but one thing is certain:
Campbell's soup is not healthy for anyone, dogs included!
Homemade is Much Better
If your dog not feeling well, perhaps due to the flu or an upset stomach, making soup at home is much preferred.
The basic ingredients are almost always the same:
Chicken broth
Carrots
Noodles
Make your soup from scratch and you'll avoid introducing unnecessary chemicals and excessive salt!
Way Too Much Sodium
Lots of salt can cause thirst and urination which can lead to poisoning.
Symptoms include:
Diarrhea
Tremors
Depression
Seizures
Less likely is a possibility that onions and garlic will contribute to anemia. The thing is, while rare, these foods can sometimes destroy red blood cells.
Symptoms associated with this condition include vomiting, weakness, and dullness.
Again, checking of labels is essential!
Moderation is a Must
Many humans foods are safe such as lean meats, many fresh fruits and vegetables, but others can do serious harm.
The key is to use moderation which goes for chicken noodle soup as well.
Although it's alright to feed some people foods from time to time, you should closely observe how it affects your dog. A stomachache, for example, is an obvious sign that a particular food doesn't agree with them.
Quite honesty…
Something like Campbell's soup does not suit your dog's needs very well.
Some Dangerous Ingredients
Salt, onions, and garlic are not the only foods dogs should not be fed.
Others considered harmful are milk and most dairy products plus raw eggs, sugary products and fat trimmings.
Since chicken noodle soup can include many of these ingredients it's important to know exactly what's inside. Any unnatural chemicals, of course, are also not healthy.
The Bottom Line
Homemade chicken noodle soup is, by far, much safer and healthier for your dog compared to store-bought recipes.
We do not recommend feeding your precious pet dog Campbell's soup or any other brand that contains high sodium and other undesirable ingredients.
What Do You Think? Have Your Say Below…
Was This Article Helpful?
Please let us know so we can improve!