Last Updated on
Are you uncertain about feeding your dog fat?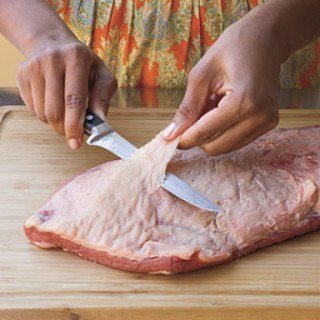 Whether it's good or bad idea really depends.
Meat offcuts are obviously very different from feeding the type of fat that's in processed junk foods.
Be sure to stick to natural, meat-based fats. And even then go easy!
Though dogs can generally handle more animal fat than humans can, you can still overdo it. Kidney failure, liver damage or pancreatic problems are possible.
Your Dog Can Eat Some Fat
Even moderate consumption of pure lard can be beneficial. However, meat protein is more important for canines compared to fat trimmings.
If you do share, do not go overboard. Fat is difficult to digest for some dogs.
And too much could eventually cause pancreatitis to develop.
Of course, always avoid trans fats.
You don't have to worry about saturated fat too much. Unlike humans, dogs aren't nearly as susceptible to heart disease, high cholesterol and other coronary risks.
Natural vs Processed
Most fats are okay for dogs.
A small amount of steak fat and beef fat are suitable examples.
Even a bit of grease and tallow from rendered fat won't be harmful if it's a modest amount and only occasionally given.
This doesn't mean that fat makes a meal. Lean meat is better than lots of fat.
Controlled amounts are fine and you may even notice a healthier coat and skin.
Always avoid junk food fats. In fact, forget feeding your dog processed products.
Fat in a Canine Diet
Some fat is necessary for a balanced diet. It doesn't have to be bad for your dog. Just strike the right balance.
Be selective about what fats are eaten, especially if human snacks or leftovers are shared.
Premium dog food is the easiest way to consistently provide the right nutrients.
A healthy diet with fat can include quality kibble, wet dog food and fish a few times a week.
Salmon and tuna are great due to the Omega-3 fatty acids.
What We Recommend
Feed fresh foods because fat becomes rancid rather quickly.
Look into a raw diet. Muscle, fat, raw bones and meat are all natural for dogs to eat.
Don't be too concerned with monounsaturated versus polyunsaturated, etc. Focus, instead, on a balance of plant-based and meat-based fat.
DHA and EPA are the best Omega-3 fats. You can get a quality dog-formulated supplement to accomplish this.
Fido Feasting on Fat
Suppose your dog has wolfed down a block of lard or a lot of pure fat. How dangerous it is?
It's hard to say, but symptoms can be revealing.
Digestive trouble is more likely than a serious medical problem. A single occurrence probably (hopefully) won't damage the dog's liver or kidneys.
You may want to call the vet and discuss the situation just to be on the safe side.
The Bottom Line
Feed your dog fat in moderation and it will be healthy for them.
Meat's benefits come from protein first, and fat secondarily.
Serious problems can result from excessive consumption with pancreatitis being a top concern for dogs.
No fat from processed foods!
What Do You Think? Have Your Say Below…
Was This Article Helpful?
Please let us know so we can improve!