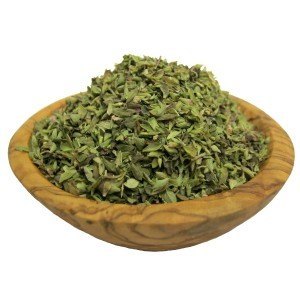 Oregano is a popular perennial plant. This mint-like medicinal herb is a valuable natural remedy and generally suitable for dogs. It can be very useful for pet owners.
Incorporating some oregano into your dog's diet is easy. Just mix the leafs in with Fido's regular food. The fact that it helps to combat against canine arthritis is attractive.
The antioxidants are also relevant to dogs. Interestingly, this herb treats bee stings and such. There are many uses for oregano. People and their pets can benefit from this herb!
Can I Give My Dog Oregano? Answer: Yes
The fresh leaves, and even the natural oil, can be given to Fido in moderation.
Oregano obviously enhances the taste and aroma of foods including grilled, fried or roasted meat, fish and vegetables. But much more importantly, this excellent herb has proven medicinal uses which can come in handy for a beloved pet dog.
Regarding Oil of Oregano
Oil of oregano, which is an antiseptic, helps prevent the spread of germs. The anti-fungal, antiviral and antibacterial properties reduce the dangers of bacteria and viruses.
A natural treatment, oregano is also a type of topical application, for skin rashes and wounds. You can apply it on an affected area of your dog's skin.
It's also great for keeping your dog's coat and skin healthy. We've had luck with Dermoscent Essential 6 which contains oregano and it's 100% natural.
Otherwise, you may have difficulty providing this to your dog. Most animals reject the taste. While you may put it in tea, try mixing it in with your dog's food. Don't use straight oil of oregano as it's very strong!
Consult with your vet, though there are no known side effects regarding oregano and dogs.
Even More Oregano Uses
Oregano helps for a sore throat, bronchitis, asthma and even the common cough. Respiratory, gastrointestinal problems such as bloating and heartburn and other stomach problems also respond to oregano.
It may work on infections including UTIs and some heart problems. Besides treating your dog's wounds, other skin problems such as insect bites, psoriasis, ringworm, warts, canker sores and acne be may alleviated.
Not all of these would apply to a pet dog but it's useful to know just in case. Oregano could possibly be a good supplement for reducing arthritis in dogs which is sadly so common.
Other Canine Safe Herbs
Aside from oregano, there are other herbs which are also safe for dogs. One of the most well-known is basil. A few others can even treat high blood pressure, dilated cardiomyopathy and congestive heart failure. Calendula (Calendula officinalis) is used for cancer, IBD, urinary tract problems, gastrointestinal infections and swollen lymph nodes. Treatment for rashes, burns, wounds and insect bites is also possible.
Another is Slippery Elm (Ulmus Fulva) which is used for clearing up urinary tract disease, gastrointestinal tract inflammation, diarrhea, wounds, abscess and boils. Milk Thistle (Silybum Marianum) is rich in antioxidants which also helps prevent canine cancer.
It's also said to help with pancreatitis, liver problems and hepatitis as well. Finally, Hawthorn (Crataegus Oxycantha) can prevent some cardiovascular diseases.
All of the above natural herbs can be given to dogs if you properly administer them.
Conclusion on Oregano
You can add oregano to your dog's diet. From the treatment of wounds, to its antibacterial properties, to use as an arthritis supplement, Fido can benefit from oregano, it's not only delicious. Of course, you can overdue it as with most anything. Oil of oregano can be particularly potent so be cautious. Talk with a vet before you get experimental.
Add Your Own Answer to the Question Can Dogs Eat Oregano? Below