Last Updated on
Zyrtec is a possibility if your dog has allergies. It can be especially helpful for atopic dermatitis.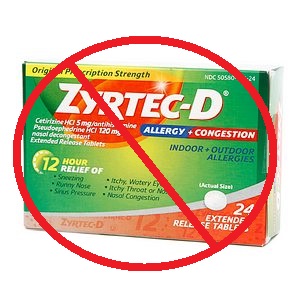 All sorts of itchiness and irritations of the skin can be alleviated with Zyrtec.
The active drug, Cetirizine, can be used off-label. It's not formulated for canines, but it is prescribed by vets.
With that being said, the Zyrtec-D version is off limits!
Learn more before providing this antihistamine.
Dogs Can Take Zyrtec (with some precautions)

Again…
Zyrtec-D (pictured here) is terribly toxic. Like Sudafed, providing it can be life threatening.
Here's the good news:
Regular Cetirizine, a branded or generic version, is generally a good temporary treatment for dogs.
Just be careful with dosing – which we'll get to in a moment.
Do Your Dog No Harm
A big concern is damage to the liver and other vital organs.
Make no mistake about it:
All histamine blockers have a potential to harm your dog.
The best thing you can do is avoid the following chemical:
Pseudoephedrine. It's in the D-version and is basically poisonous for pets.
Which Zyrtec Is Best?
For a pet dog, Zyrtec should contain the active ingredient called Cetirizine.
It cannot be stressed enough:
The D-version may as well stand for Death!
As far as antihistamines in general, they are not recommended for nursing dogs. Pets with liver disease or related problems are at increased risk as well.
Providing Zyrtec to a puppy, without professional help, is also a bit worrying.
What 2 Studies Found
Be sure to read the details of a study of 23 dogs given Cetirizine.
To sum it up:
Zyrtec was found to be effective and well-tolerated (although 2 of the dogs had side effects).
As for the other study…
Utrecht University of the Netherlands concluded the following:
"Cetirizine has no effect on pruritus in dogs with chronic non-food-induced or food-induced atopic dermatitis. Hence, such medication should not be recommended for the control of pruritus in dogs with long term allergy."
Conflicting information! We think the big picture is this:
Zyrtec is relatively safe for dogs, but it certainly isn't a cure!
Cetirizine: A Dog Dose?
Regarding Zyrtec dosage for your dog…
You really should talk with a vet. The thing is there could be specific factors to take into account.
---
For Reference Only: Half a milligram (0.5mg) per pound of body weight taken once (not more than twice daily).
---
Get Professional Help
Does your dog bite at their legs, or gnaws at parts of their skin?
If so, you should address it.
You may have a severely allergic dog, especially if there are no signs of fleas or ticks.
A vet's diagnosis will help to eliminate your dog's allergies.
Zyrtec is not a real fix. Besides, there are many other options. For example, Apoquel works great for stubbornly itchy skin.
The Bottom Line
Never give Zyrtec-D to your dog because it is way too dangerous!
Regular Zyrtec is much safer, but it only makes sense on a short-term basis.
Get your dog to a professional for a case of serious allergies.
What Do You Think? Have Your Say Below…
Was This Article Helpful?
Please let us know so we can improve!