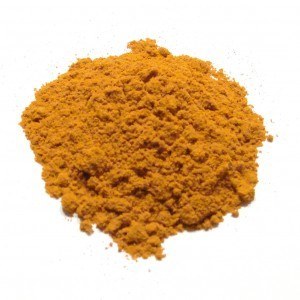 Turmeric is used in many different recipes so some owners wonder if dogs could consume it. It has a very distinctive taste and, if you've tried it, you'll know if a food contains it or not.
Generally, giving dogs spices isn't a good idea. Turmeric may be one instance where you could make an exception. It's used as a supplement for preventing cancer, or as a way to help reduce inflammation from arthritis.
Some veterinarians recommend turmeric consumption to keep dogs healthy and improve longevity. The amount of this spice you can give to your dog depends on their weight and tolerance which we'll discuss!
Can I Give My Dog Turmeric? Answer: Recommended
This is one spice that actually can benefit humans to dogs alike.
This is not to say all dogs will greatly benefit from its consumption. Health supplements are never a guarantee but turmeric has a long history as a highly beneficial spice. In any case, you should carefully and gradually introduce it to your dog.
The Method and Amount
The easiest way to provide your pet with turmeric is to add some to their food. But you don't want to give them too much. You can gradually increase the amount later on so they can get used to it. Anytime you introduce something new to your dog, you'll want to avoid shocking their digestive system.
Just a quarter of a teaspoon of turmeric is usually sufficient for daily use, assuming no side effects appear. Increase it by a quarter teaspoon each day, until you are giving them a quarter teaspoon for each 10 pounds of their body weight. Let's say you have a 40 pound dog; starting out with a quarter of a teaspoon is way plenty. Once they're used to that you can give them a half, and then three quarters, and finally the whole teaspoon.
If you already provide turmeric to your dog, please share your recipes below!
Dogs and Indian Food
So it may be a good idea to give your dog limited amounts of turmeric spice. However, you don't want to give your dog any Indian foods like curry or other spicy dishes that may also contain turmeric. As a general rule of thumb, you should try to keep your dog's diet plan as simple as possible.
Your dog's digestive system can only handle so much, especially if they are getting their daily dose of dog food. Giving them foods that are out of the ordinary will likely mess them up. Even approved foods, such as turmeric, need to be strictly regulated with a very conservative approach.
Plenty of Preventative Properties
Turmeric often gets brought up as an option for pets because it's sort of super spice with plenty of antioxidant properties. It has also been shown to potentially ward off cancer and other diseases. Even if your dog hasn't been diagnosed with such a serious condition, you can still give them turmeric as a preventative measure.
There are many promising health benefits associated with turmeric consumption. Almost all are preventative in nature. Your dog may benefit from its use without being diagnosed with a disease or condition.
Spices Usually Unnecessary
Dogs don't typically need a lot of supplementation especially if they are getting a quality dog food. Providing grade-A food, one that contains a meat source as the top ingredient, is certainly much more important than introducing turmeric to your dog.
Conclusion on Turmeric
Turmeric is one spice that you can include in your dog's daily diet. If you know that your dog may be susceptible to cancer it could be a great option. You don't need to go overboard though. There is an ideal dose and giving them more than what's required is not going to increase effectiveness. To prevent your canine from having an stomach upset, vomiting, or diarrhea you should always use moderation.
In any case, if you think that they'd benefit from having some turmeric in their diet, you can usually add this spice. As always, it's a good idea to first consult with your vet. Although rare, it could be that turmeric has some contraindications or induce allergic reactions.
Add Your Own Answer to the Question Can I Give My Dog Turmeric? Below