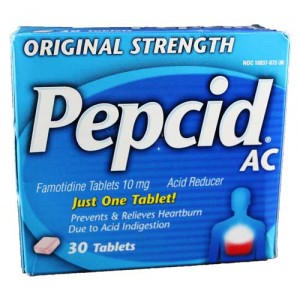 If your dog is suffering from an upset stomach, you might be tempted to reach for your box of Pepcid AC. But is it really safe for dogs? Find out what you need to know here!
Just like humans, dogs can also experience having stomach problems like ulcers, gas, and other types of gastrointestinal ailments. Sometimes these conditions can be very painful, and just like people dogs need to be checked by a doctor too. So if you notice that your dog may be having stomach issues, you should consult a vet right away.
There are a lot of available over-the-counter medications for stomach problems. But before giving one to your pet dog, you should make sure that it is safe for him or her. You wouldn't want to make the situation worse, right? So always check with a vet first or make a thorough research on the subject before engaging in any type of self-medication for your canine friend.
Can I Give My Dog Pepcid AC? Answer: Yes, as Directed by a Vet
Pepcid AC is a histamine blocker that's frequently prescribed by vets to treat dog's ulcers, gastritis and other stomach problems. This is actually a medication for humans, but it has been found to be effective and safe for dogs too.
Because Pepcid AC has no reported bad side effects some dog owners even make use of this medication without a vet's prescription. This is quite understandable as vet bills can really get too costly. But you should be aware of the right dosage for your dog so as to keep your buddy safe from possible overdose. Do not give your dog more than 1 milligram (mg) per pound of their body weight.
Vomiting Due to Upset Stomach
There are a lot of reasons why a dog can get an upset stomach. If they go through your trash and find something appealing to eat, a stomach problem is almost inevitable. That's why you should always make sure that your dog can't get to your garbage can.
Going through an abrupt change in diet can also be the culprit for having stomach issues. So if you intend to change the brand or type of dog food that you give to your pet, make sure that the transition to the new type of food is done gradually. This way, your dog's stomach can get used to the introduction of the new diet slowly.
Vomiting and stomach trouble can be a sign of more serious diseases too. Your dog can possibly have worms or worse, they can have what's known as Parvovirus which is a very deadly disease. Mild cases of vomiting and stomach upset can be treated by Pepcid AC in just a few days (it usually clears up within a 24-hour period) but more serious cases need immediate medical attention.
Helping Your Dog Recover from Stomach Problems
You can give your dog a bland diet or a rice and boiled chicken meal. Remove the skin from the chicken, as an upset stomach is particularly sensitive to oily food. If you are feeding your dog commercial dog food, get those that are made of lamb meal and rice as these types of dog food are easier on the stomach.
If your dog is constantly vomiting, you can get some Pedialyte or Gatorade so as to replace the lost electrolytes from your pet's system. You can also offer your favorite dog some ice chips or ice cubes instead of water as this can provide a relief from the feeling of nausea.
If the cause of your dog's upset stomach is simply the food that they have eaten recently, you can also allow your dog to fast in order to give the gastrointestinal tract time to recover. Fasting can last up to 24 hours for an adult dog; and if they're still a puppy, you can allow them to fast for about 12 hours.
How to Check for Dehydration
You should know how to check for dehydration so that you know if you already have an emergency case on your hands. The method used in checking dehydration is really easy as you simply need to lift up your dog's skin on the shoulder blade area. If the skin immediately returns to its place, then you have nothing to worry about.
Should the skin take a few seconds to return to its normal position, then it signifies that your dog is dehydrated and medical attention is needed as soon as possible. Your dog will need an intravenous procedure of hydration in this case.
Fore-Warned is Fore-Armed
More often than not, stomach upsets in dogs are only a minor issue and a dose of Pepcid or Pepcid AC can provide immediate relief. It is still wiser to be prepared for emergency situations as you wouldn't want to put your dog's health in danger. So always keep your vet's number ready for emergency situations.
Add Your Own Answer to Can I Give My Dog Pepcid AC? Below
---