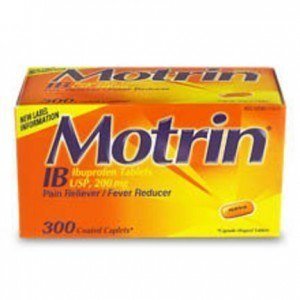 Motrin is one of the most common pain reliever medicines being used by people for mild to severe body pain.
If you have a head ache, taking a Motrin tablet can usually provide almost instant relief. Likewise, if you have back pain or joint pain, this drug can also help.
Unfortunately, pet dogs are not spared from different types of pain too. Without you knowing it, they could be experiencing headaches, back aches and joint pain as well. And sometimes, you notice that they whine when you touch certain parts of their bodies. And this signifies that the particular body part is in a lot of pain.
---
So, should you give Motrin to a dog in pain? Will it have the same effect on them and ease their suffering too?
Never, never, never give your dog Motrin. This is one of the most dangerous human medicines that can be given to pet dogs. Actually, most pain relievers that are being used by humans are harmful to dogs. So get your cue from that and resist the urge to give human pain relievers to dogs.
Can I Give My Dog Motrin? Answer: No.
Even if your dog survives the initial dosage of a pain reliever like Motrin, you shouldn't feel confident that it doesn't have any adverse effects on your per dog. The toxic level of these types of medicines can build up in a dog's system and it can lead to a more serious problems in the future.
How to Know if Your Dog is in Pain
As your dog is not blessed with the power of speech to express how he or she feels, you as the dog owner should be very observant. If your usually energetic dog becomes suddenly sleepy and weak, you should suspect that something is wrong. Is he or she just lying around your feet all day and not begging you to play? Your dog could be in some kind of pain.
You should observe other unusual things about your dog. By doing so, you can inform your vet about your dog's behavior and the vet can prescribe the proper medicine needed for your dog's particular case.
General Things to Observe in Your Dog
Sleeping too much is not a good sign especially if your dog is typically active. Limping is another sign that you should be wary of. If a dog is limping, it could mean that the foot or limb area is painful. He or she can have a cut or wound or a broken bone can also be suspected.
Licking a certain part of the body is also another sign of pain or discomfort. The act of licking is actually your dog's defense mechanism in trying to heal his own pain and wound. So you should immediately check on the exact spot that your dog is licking to see if there are any visible signs of wound or infection.
Your dog's appetite is also a good gauge of his or her health. Loss of appetite can mean that your dog is not feeling well. It can be compared to people who are sick and find even the tastiest of food unappealing. If this is the case, make sure that there's water available at all times and call a vet immediately. Don't just assume that your pet is in pain. And don't just give your dog pain relievers indiscriminately.
Symptoms of Motrin Poisoning
What's done is done. And if you have accidentally given Motrin to your canine friend out of desperation to ease his or her pain, you should observe them for the possible effects of poisoning.
An elevated temperature is not a good sign (dogs' temperature should not be higher than 102 degrees Fahrenheit). And you should watch for vomit reactions and stomach upset symptoms too. If your dog's poop has blood, you should bring him or her to a vet right away.
Safety First!
No matter how good your intentions are, you can accidentally hurt your pet dog by not knowing which human medicines are safe and which are dangerous for the canine breed. If you really need to give a pain reliever to your dog and you can't find any vet around to consult, you can just give him or her baby aspirin. This is totally safe for dogs and it will give some relief to your furry friend until you can call a vet.
Add Your Own Answer to Can I Give My Dog Motrin? Below
---