Can I Give My Dog Baby Food?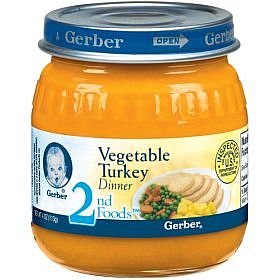 If you are feeding your dog baby food you should know the pros and cons of doing so. While quality baby food is definitely healthy for human babies, this is not necessarily true for puppies and dogs.
Humans and canines require different diets and this may be even more true during the critical newborn years. Obviously what's good for humans can be harmful to dogs. The only way to find out the particulars is through research prior to making a potential mistake such as feeding your dog baby food.
Although most baby food are not really that toxic to pet dogs, these types of food are not good sources of nutrition for your dog. Giving baby food as treats to your pet is not awful, but keep in mind that your dog can develop fondness for baby food and this will make them picky eaters over the years.
Can I Give My Dog Baby Food? Answer: No
The ingredients in baby food, as they are formulated, are not suitable for dogs.
It can cause an stomach upset and diarrhea. Your dog may even have some allergic reactions to some of the components included in baby food.
It is therefore recommended that baby food should only be given to babies and dog food should be given to dogs. This way, you can be sure that your dogs get the proper nutrition that they need.
Effects of Baby Food
One of the bad effects of always changing your pets' type of food is that they become picky eaters. If they find that baby food tastes better than dog food, they will refuse to eat this and wait for you to give them baby food instead. When you always give in to your dog's whims, they will always refuse to eat dog food.
You know for a fact that eating baby food will not provide your dogs with the proper nutrition that they need, as these are intended for humans. Only high quality dog food can give your dogs the nutritional elements that they need as these are made specifically for them.
Dealing with Picky Eaters
You should know that your pet dog will not let itself starve to death. If they get hungry enough, they will eat whatever is served to them. You should offer dog food to your pets several times in a day. And if they refuse to eat within 10 to 15 minutes, you should take away the food and serve it again a little later.
This will teach your dogs that not eating the food immediately will cause them to go hungry, so they will eat the dog food the next time it is served to them. You should be firm in withholding food if your dog refuses to eat it. And you should never give in by offering baby food just so they'd eat.
Baby Food Ingredients
If the ingredients in the baby food are comprised of fruits and vegetables like oranges, banana, peas, carrots, and sweet potato, then these are beneficial to your dog too. But if the baby food contains grapes, then the food itself can be considered toxic to dogs.
Other harmful ingredients that may be present in baby food include garlic and onion which can also come in the form of powder.
Baby Food with Dog Food
You can mix baby food with dog food if you like, just make sure that the baby food doesn't contain any ingredients that are toxic to dogs. Furthermore, the dog food portion should be greater than the baby food portion, as this is more balanced and nutritious for your pet dog.
If your dog is simply after the smell and moist texture of the baby food, you can also try adding some special sauces that are really intended for dogs. This way, you can be sure that all the ingredients in the food are safe for your dog and nutritionally balanced too.
Don't Spoil Your Dog
It would be better for your dogs if you didn't feed them baby food. At the very least, don't rely on baby food alone since it doesn't contain the right balance of vitamins and minerals that are needed by the canine body. You really should therefore resist spoiling your pet dog by allowing them to eat baby food.
Add Your Own Answer to the Question Can I Give My Dog Baby Food? Below