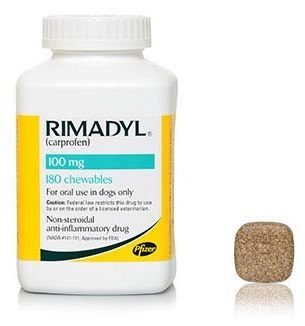 Rimadyl is probably the most popular NSAID carprofen for treating canine joint deterioration. Dogs are living longer than ever so arthritis, and similar joint issues, are common ailments.
Vets routinely prescribe medications, including Rimadyl, for arthritic dogs. There are many options and choosing a brand can be confusing. You're on the right track with this particular med.
Rimadyl can work for an ailing dog. It's designed for them! Learn more, so you can discuss it with a professional. Unfortunately, financial incentive has blinded many vets. Be well-informed.
Can I Give My Dog Rimadyl? Answer: Yes, when prescribed
It's an effective pet medication for reducing suffering and discomfort associated with arthritis including osteoarthritis.
Rimadyl is a carprofen that provides supportive treatment for hip dysplasia and various other joint inflammation conditions relevant to dogs. But first, understand this medication's limitations. Rimadyl can improve quality of life and mobility for a pet dog, but it won't cure anything.
There's no known fix for arthritis, either in humans or canines. Rimadyl can certainly help though!
It's a Highly-Regarded Drug
This FDA-approved non-steroidal anti-inflammatory drug (NSAID) also helps with orthopedic surgery recoveries. We're normally cautious about NSAIDs for dogs, but Rimadyl is an exception.
After all, it was designed for Fido. Experts say it's more effective than supplements like glucosamine and chondroitin.
Yet Rimadyl Risks are Real
As with most drugs, Rimadyl can have side effects. It's a powerful drug that's only available by prescription. If a vet talks you out of Rimadyl, it's because of adverse side effects some dogs experience.
Over use can lead to ulcers and kidney or liver damage. You must prevent dehydration during treatment since renal toxicity can occur. Gastrointestinal symptoms are also possible.
Some Specific Side Effects
Bad reactions include a loss of appetite, increase in thirst, increase in urination, vomiting, diarrhea, fatigue and changes in your dog's behavior.
Talk with a vet about using Rimadyl. If your dog is already taking other meds, such as steroids, careful of complications. Never use a carprofen together with other NSAIDs, including Aspirin.
And Now, The Good News
Rimadyl is generally well-tolerated by dogs. A clinical study didn't show a great incidence of adverse reactions verses a placebo. However, the study may be biased.
One thing is for sure. Your dog's condition won't improve if you don't take action with a good treatment option. Rimadyl is worth a shot and it's fairly safe.
Dog Dosage and Duration
When treating a dog with a carprofen, such as Rimadyl, limit their exposure. You can't administer this drug over long periods. This will increase the likelihood of serious effects.
Your dog's weight and age are factors to discuss with your vet. Mention if they're pregnant or suffering from Von Willebrand disease – most common in Doberman Pinschers.
Rimadyl comes in tablet form, in doses of 25, 75 or 100mg. It's typically provided to dogs daily in the amount of 2mg per pound. The drug can also be injected.
– Use this Rimadyl dosage chart for reference
– Review Pfizer's Rimadyl documentation
Conclusion on Rimadyl
Rimadyl was developed for dogs so it's a fairly safe NSAID. It has a good track record. But all drugs, including this one, come with potential side effects for dogs. Get a vet's consultation. Besides, a prescription is required for Rimadyl. Better yet, have your dog diagnosed before deciding on anything.
Add Your Own Answer to the Question Should I Get Rimadyl For My Dog? Below