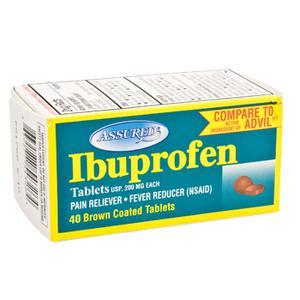 Ibuprofen is a well known over the counter pain killer that reduces common aches and pains. This NSAID, however, comes with increased risks for dogs. These could easily outweigh any benefits, but let's take a closer look.
Pets experience many of the same pain problems that humans do. Unfortunately, Ibuprofen isn't a drug that should be given to a dog. For fever, joint trouble or anything else these potentially dangerous tablets require great caution.
So we cannot recommend Ibuprofen for whatever's ailing your beloved dog. Doing so could make matters worse and fill you with regret. The good news is there are much safer pet painkiller options that are just as effective.
Can I Give My Dog Ibuprofen? Answer: No

Human pain medications, older NSAIDs in particular, can be very harmful for animals and even fatal in some cases.
Ibuprofen, as well as Advil or Motrin, are simply not safe enough for dogs. Toxicity is common and dosing is very tricky due to animal sensitivity to these particular meds. Consider getting high-quality canine pain relief tablets instead of using your supply of Ibuprofen. Another, more appropriate, painkiller for your dog would be Rimadyl, but even this drug must be prescribed by a vet.
Pet Pain and Pill Perils
Lots of loving owners are struggling to help their dogs with pain, both mild and chronic. A shorter life means signs of wear and tear appear earlier and with more frequency. Canine arthritis is very common, but turning to Ibuprofen for dealing with your dog's aches and pains is just way too risky.
The well-known non-steroidal anti-inflammatory drugs, which includes Ibuprofen, can very easily harm your dog's nervous system, GI tract as well bring upon renal (kidney) failure. Not to scare you but seizures, coma and even death is possible.
Some claim that Ibuprofen is okay in small amounts but don't chance it with your dog!
Several Signs & Symptoms
Ibuprofen poisoning, as is the case with similar pain meds, can be serious. If you accidentally gave your dog some Ibuprofen then reach out to a vet and watch for diarrhea, vomiting, lethargy, stomach pains, pale gums and/or loss of appetite.
More concerning symptoms, as already alluded to, can include halitosis and seizures which definitely require a veterinary professional's life saving assistance.
Tylenol is another pain product that can be extremely harmful for dogs since severe liver damage is possible.
Ongoing NSAID Confusion
Time-tested analgesic drugs should have more obvious warnings to prevent people from administering them to pets. Sure, it's easy to give your dog a dose of Ibuprofen or similar over-the-counter painkiller.
But, make no mistake about it, such drugs should never be given to dogs! Ibuprofen use for a pet may be seriously regretted later on.
Ibuprofen vs. Newer Drugs
Some of the newer non-steroidal anti-inflammatory drugs are proving to be safer for dogs when compared to Ibuprofen. Metacam, Rimadyl and Zubrin are a few worth investigating.
The authorities really should rename, or reclassify, these analgesic products because the new and old types get grouped together as regular NSAIDs. It's really confusing!
Seek out a safe and appropriate carprofen brand for your dog instead of a conventional anti-inflammatory like Ibuprofen. Speak with your vet using this knowledge.
Conclusion on Ibuprofen
Familiarity with Ibuprofen in no way makes it safe for your dog. This NSAID should not be given to pets, no exceptions. Many dogs have suffered, or died, due to this drug. Instead of Ibuprofen, have your dog diagnosed by a vet and ask about a Rimadyl or Metacam prescription. Otherwise, consider using a well-regarded product made specifically for dogs to help ease pain.
Add Your Own Answer to the Question Can Dogs Take Ibuprofen? Below