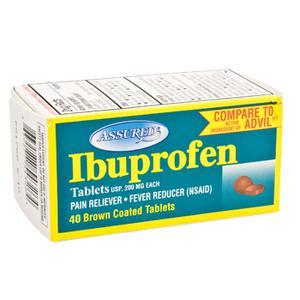 Ibuprofen is a time-tested standby in many homes across the country, but is this something that can safely be given to your dog when they are running a fever, in pain, or having trouble with their joints?
Dogs are susceptible to many of the same aches and pains that we are as we age, and so we have first hand knowledge about what kind of pain they're experiencing. One of the human traits is to throw medicine at a problem until it goes away. This is not something you want to get into the habit of with your dog.
Canines are pretty good about dealing with pain, unless it's excruciating, at which time they yelp until the pain subsides. If you've noticed that your dog is not as frisky as they used to be, or they are limping, or they just aren't as active as they once were, they could be living with some pain and just trying to cope. Even in these instances you shouldn't give your dog Ibuprofen, but there are some other painkiller options available to you.
Can I Give My Dog Ibuprofen? No Way

Dogs should not be given Ibuprofen or Tylenol because it is very harmful to their system.
There are painkillers for dogs, as well as anti-inflammatory drugs that are safe for them, and these should be prescribed and administered by a vet, and they will show you the proper dosage and how to treat them at home if it is an ongoing condition.
It's important to reiterate that this is not recommended at all, even though some pet owners say it is OK in small amounts and once in awhile. You should not take chances with your pets, and go with safer alternatives.
Dogs & Arthritis
Dogs have shorter life spans than humans, so everything is condensed into a shorter time frame. This means that they start showing signs of wear and tear earlier, and with more frequency as they get older. They can start exhibiting signs or arthritis before you know it, and you may be tempted to give them a regular dose of painkiller so that they can get on with their lives like they did when they were younger.
For humans this can help with things like joint pain and swelling, but this is not something you want to give your dog for the same problems. There are other drugs they can take to help mitigate the pain, and your vet will know what to give them so that they can be pain free day after day, without worrying about harmful side effects.
Canine Fever
If you think your dog has been running a fever and are looking at Ibuprofen as a way to break it, you should consider your other options and do not give it to them. If this is a one-time occurrence, you can just let it run its course, but if you notice that it's happening again and again you should consult your vet to find out why and how to prevent it.
Ibuprofen or Tylenol
When it comes to taking away the pain your dog is experiencing, you might go to the old time-tested drugs like Ibuprofen or Tylenol. Neither of these drugs should be given to your dog. Tylenol has been shown time and time again to be extremely harmful to dogs, and can do severe damage to their liver.
Just like in humans the liver is an organ that is responsible for the many of the other digestive functions in the body, and this can prove disastrous for your pet.
Always Consult Your Vet
Getting information about the care of your pet online is an OK place to start, but you should always discuss important matters like this one with your vet. They will have your pet's medical history and they will know exactly what is the best course of action for them.
Many forums out there involve dog owners advising dog owners, which is all well and good, but many times it is opinions, or it is owners telling other owners what their vet said. But vets do not give broad sweeping advice, they give pet-specific advice for individual dogs
Add Your Own Answer to the Question Can I Give My Dog Ibuprofen? Below