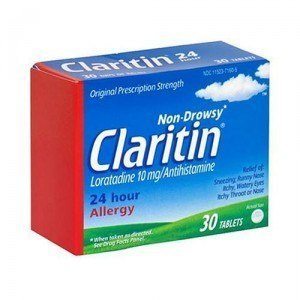 Giving a dog Claritin carries higher risks compared to routine human use. Not to be alarmist but researching this over the counter antihistamine could mean the difference between life and death for some dogs.
Of course, you want a solution when your best buddy is sneezing, coughing, wheezing or shows similar allergic reactions. But, in many instances, these symptoms will resolve themselves. Medicating a dog, with a potentially dangerous human drug such as Claritin, can create risks that outweigh the benefits.
At the very least, speak with a vet before providing any Claritin to your dog. A proper diagnosis is prudent and, besides, there are several factors that go into calculating a proper dose. It's also important to avoid introducing pseudoephedrine into your dog's system which means you must be careful about which types of Claritin you administer.
Can I Give My Dog Claritin? Answer: Yes, but consider alternatives
If you do introduce this allergy medication, be sure not to use Claritin-D as it can be extremely harmful to canines.
Actually, any kind of Claritin is potentially harmful which makes it questionable for dogs. Also known as Loratadine, this drug was originally available by prescription only. It was only recently approved to be sold OTC which gives you an idea of how powerful it can be. That's not to say that Claritin can never successfully be used on a dog. But, sharing your drug supply with a pet is fairly risky and there are too many unfortunate deaths every year as a result.
So to be on the side side, never administer powerful antihistamines such as Claritin without some professional help. It's just not worth the risk! If you cannot afford it, and the allergy isn't extremely serious, consider purchasing an all-natural pet-formulated homeopathic antihistamine as an alternative.
Another Possible Medication
If your dog is experiencing a persistent allergy, itchiness in particular, try getting a veterinary prescription for Apoquel. This drug, compared to others, is known to be highly effective and a much safer choice for dogs. While it may be more expensive, your friend won't be exposed to the associated risks that come with Claritin and some other popular brands.
The Permanent Solution
Simply put, Claritin or similar drugs aren't going to actually solve your dog's underlying allergies or associated symptoms. The best way to cure allergies is to find out exactly what's causing them in the first place. If your dog is spending a lot of time outside, it can be hard to nail down just exactly what's getting into their nose since the possibilities are numerous.
However, if much of their time is spent indoors, make an effort to investigate what could potentially be causing the allergic reaction you're trying to weed out (no pun intended). This strategy should eventually solve your dog's pesky allergy situation, something that Claritin definitely cannot achieve.
Whatever you do, don't try to medicate the dog yourself. Again, certain people meds can be extremely dangerous and hit or miss use of Claritin should probably be considered a textbook example.
For Emergency Situations
In most cases, common allergies aren't life-threatening. But if you notice that your dog is seriously wheezing or having trouble breathing, for any considerable amount of time, call your vet immediately. They may advise you to provide your dog with Claritin for immediate relief. But often times, it's necessary to bring them in for a full diagnosis and more suitable treatment.
If you accidentally gave your dog Claritin then there are some telltale signs. Watch for upset stomach, behavioral changes, dry eyes and mouth as well as a noticeable increase in thirst. Bring them to a vet ASAP!
Conclusion on Claritin
The use of Claritin, and especially Claritin-D, for canine allergy relief isn't safe enough and therefore we cannot recommend it. Cases where a dog is dealing with chronic sneezing, chest congestion, itchy and/or watery eyes generally shouldn't be treated without a professional. Try to determine and eliminate the source(s) of these problems. Too often pets are medicated with human products to cover-up allergies. Make no mistake about it, something as powerful as Claritin can be a bad idea.
Add Your Own Answer to the Question Can I Give My Dog Claritin? Below