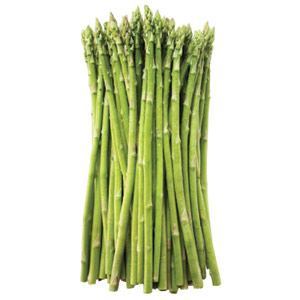 Asparagus is one of the more healthy vegetables for people, but how about for dogs? Perhaps canines could use the extra vitamins and nutrients.
The benefits of eating asparagus may have broad health benefits ranging from anti-aging properties to help with preventing cancer, reducing inflammation and pain in the joints, help with strengthening bones as well as improved function of the heart. It sounds like a wonder food. But will it have these same effects on a dog?
Probably not. And the other problem is that they're not really designed to eat vegetables like asparagus. If you cook it up so it's soft enough for them to digest it more easily, you will have lost most of the nutrients that it contains and it won't give them the benefits anyway.
Can I Give My Dog Asparagus? Not Recommended
Although asparagus is really healthy for us humans, it doesn't translate to dogs, and although your dog may not have any negative reactions to it, since they don't need it it makes it onto the list of not necessary.
Dogs will just wolf down whatever you put in front of them, they won't take the time to chew up a piece of asparagus in their mouth until it's ready to swallow. A couple of chomps and it will be down the hatch. It will probably cause problems coming out the other end too.
Dogs are Carnivores
Dogs don't really need a lot of vegetables to supplement their diet. Their digestive system has leaned to handle the vegetable fillers that are in most commercial dog foods, but giving them asparagus because you think they will get a lot of health benefits from it is not right.
A dog doesn't process foods the same way that a human does, so foods that are labeled healthy for us do not immediately apply to the canine species.
Keeping it Simple
The best thing you can do for your dog is just keep things as simple as you can. Buy a premium dog food with mostly meat ingredients. Feed it to them at the same time every day, and they'll be happy as can be. This will get their digestion into a routine and you should have very few, if any, health complications like diarrhea or indigestion.
As a responsible owner it can sometimes feel like you're not doing enough for your dog by just giving it dog food and water. In your head you're thinking that if a human was on that sort of diet they'd be malnourished. But for dogs that's all they really need.
Of course you can give them the occasional treat, and even some leftovers from the dinner table, but you don't need to go out of your way to make them asparagus, and if there's leftover asparagus from dinner, it's probably not the best choice for a treat.
Better Treat Options
You can get specially formulated dog food biscuits that contain more vitamins and nutrients suited for dogs. They'll also be easier for them to digest than a piece of asparagus, and some are even designed to scrub your dogs teeth while they chew them. You can also give them a special bone to chew on that you can get from your local pet supply store.
These are created so that they don't splinter, and they can provide hours of chewing enjoyment for your dog, and is closer to what they'd eat in the wild as a treat.
To recap, dogs get enough vegetables added to their dog food, and really they don't even need those, and dog food manufacturers put them in there as filler because they're cheaper than meat. So don't give them even more unnecessary vegetables in the form of asparagus.
Conclusion on Asparagus
Even though your dog is domesticated, think of their cousins and ancestors out in the wild, and use that as a gauge of what to give them. Surely steamed asparagus is not something they would seek out or have access to on their own.
Add Your Own Answer to the Question Can I Give My Dog Asparagus? Below