Last Updated on
Mucinex reduces congestion, sinus pain, throat phlegm and most other cold symptoms. But is it safe enough for dogs?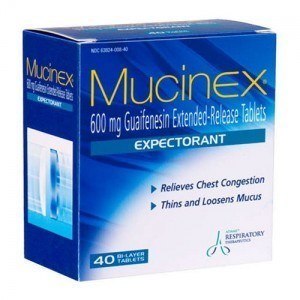 Here's the deal:
While this cold and flu medication also works for animals, it should not be used for what could be an undiagnosed medical condition.
Further, different types of Mucinex products contain various active ingredients which means you have to be very careful.
Dogs Can Take Mucinex® But Certain Versions Are Off Limits
Providing an expectorant/cough suppressant is not a decision to take lightly.
For your dog's sake, it is super important to read the label's ingredients.
Harmful Mucinex Combinations
Guaifenesin has always been the main drug in Mucinex. After all, it clears mucus — hence the name! You'll be happy to hear that it has a good safety record with respect to dogs.
On the other hand, Acetaminophen can be extremely toxic for pets.
Many of the multi-symptom Mucinex products contain Tylenol's active ingredient and other drugs that may jeopardize your dog's well-being.
Be sure to check the label for an antihistamine called Doxylamine succinate AKA Diphenhydramine HCL as it could complicate matters. Phenylephrine, a decongestant, is questionable as well.
The point is this:
For your dog's safety, it is best to avoid combination forms of Mucinex. Play it safe — only Dextromethorphan and Guaifenesin are acceptable active ingredients.
Avoid a Hit or Miss Approach
Even with the right type of Mucinex, dogs with chronic respiratory illnesses cannot be effectively treated with it.
For example:
The problem could be kennel cough and, while your dog may appear to respond well, over-the-counter Mucinex would be unnecessary and also unhelpful.
Safer pet respiratory treatment options exist, but ultimately your dog could require a prescription drug such as an antibiotic.
In other words, a vet really should be involved!
What is a Safe Dose For a Dog?
Several factors can go into determining how much Mucinex to provide. The following is a general rule of thumb only:
20mg per pound of body weight taken every 12 hours or so.
Some dogs have unique medical situations that require careful consideration in terms of dosage.
Further, be careful with anything marketed as Maximum Strength as the standard dose is 1,200mg which is too much!
Regular Mucinex Expectorant as well as the DM line with Dextromethorphan HBr have lower levels of Guaifenesin and are generally easier to dose for dogs.
How You Can Deliver Mucinex
As with Robitussin, OTC Mucinex can be given to your dog orally in either liquid (syrup) or tablet form.
Both routes of administration and brands are effective when their use is appropriate.
People tend to favor liquids for the convenient use of a dropper, but breaking up tablets and putting them into dog food is another easy method.
Last but not least, depressing Mucinex tablets directly down your dog's throat is an option.
A Wonderful Natural Remedy
One teaspoon of pure honey, taken 3 times daily, may provide relief much like Mucinex.
This natural alternative boosts the immune system, safely reduces congestion and speeds up a recovery.
Warning: Honey is not to be given to puppies.
For a Chronic Canine Cough
While Mucinex can ease all sorts of cold and flu symptoms, it may be necessary to have a vet examine your dog.
A bad cough and/or excess phlegm could be signs of other pulmonary problems or even a heart condition.
Coughing with heavy breathing may indicate pneumonia which would require immediate care.
The Bottom Line
On a short term basis, some dogs can benefit from Mucinex.
But scrutinize the active ingredients because this combo medication comes in versions that can be dangerous. And Mucinex should only be used temporarily such as to loosen congestion.
Get professional care if your dog's symptoms persist.
Your dog could have a chronic respiratory issue in which case you can't go it alone. Also, a prescription antibiotic may be necessary.
Be sure to conservatively dose Mucinex if your vet's help is not possible.
What Do You Think? Have Your Say Below…
Was This Article Helpful?
Please let us know so we can improve!