Last Updated on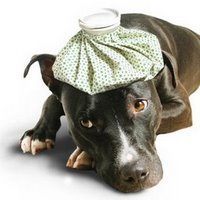 Dogs obviously get the occasional fever (particularly when they have an infection).
The first thing you should know:
Over 104 degrees °F is concerning for a canine.
And (if that's the case) you'd be right to be worried.
A furry friend's ferocious fever may indicate something serious.
So don't mess around!
Head to a vet. A dog with a very high temperature needs to be diagnosed.
And it's important to know…
Why the dog actually needs a fever reducer! That'll enable optimal treatment.
Fever Reducers Work For Dogs Too
But don't be quick to provide risky meds!
A better option?
Animal-formulated powdered acetylsalicylic acid. That's fairly safe and effective for reducing your dog's fever (at least in the short-term).
Just be sure that your dog actually has a fever!
---
Fact: Canines have higher body temperatures than their masters.
---
It's a good idea to have a rectal thermometer on hand.
Careful With Your Canine
Regarding common fever reducers…
Many OTC medications can easily do more harm than good.
2 examples:
Ibuprofen and Tylenol are fever reducing meds that should never be given to a dog.
Too dangerous! Liver and renal failure are possible.
Looking for a decent option?
Buffered aspirin (although natural techniques should be tried first).
Baths And Hound Hydration
Fluids are a go-to remedy for keeping a dog's temps down.
Plenty of water is needed during such a vulnerable time. And keep Fido indoors for now.
The thing is dehydration often goes hand-in-hand with a high internal body temperature.
Sometimes you can reduce a fever with hydration.
Can't get your dog to drink?
It's another indicator that you need help!
---
Tip: Try a short lukewarm bath to stop the momentum of an overheated body.
---
Get an Accurate Reading
Confirm your dog's need for a fever reducer with several accurate elevated readings.
Rectally is best (followed by the ears).
Temperature readings via the nose aren't so reliable.
The dog may feel warm, even hot, but that may not mean much. You need their true body temperature.
Anyhow, quick use of a fever reducer is usually the wrong approach.
High Temps are Telling
A normal range is between 100.5 and 102.5 °F.
A dog with a fever of 104 or more should receive medical assistance ASAP (sometimes simply the common cold though).
Using a fever reducer on a dog can work (at least temporarily).
But it should be addressed at its root cause.
For example:
A prescription antibiotic may be needed to knock out an undiagnosed infection.
Get The Dog a Diagnosis
Less common reasons for fever include:
Inhalation of toxins
Cancer
Immune system disorders
In other words, a fever reducer may not solve whatever's causing your dog to have a temperature.
Again, get a diagnosis.
Discover why they're overheated. That's your best course of action!
---
Warning: A prolonged elevated fever requires immediate veterinary assistance!
---
The Bottom Line
Find out why your dog has a fever (while you also work on reducing temps).
A short lukewarm bath helps to reduce fever. And providing fresh water is also key.
But it's really best to avoid questionable medications.
Play it safe! Involve a vet.
The goal should be to address the underlying cause for a dog's elevated temperature.
What Do You Think? Have Your Say Below…
Was This Article Helpful?
Please let us know so we can improve!