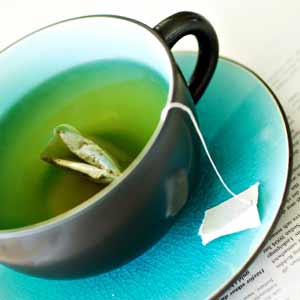 The health benefits of green tea are plentiful, and well-known. But is this something that can also benefit dogs, and if so, in what amounts should they be given it? Green tea is supposed to hunt down and eliminate free radicals from the body, therefore preventing a host of diseases, including cancer.
So much research has been done on it that most doctors and health professionals don't mind recommending drinking one serving or more per day.
However, you won't see many vets recommending this same dosage for dogs. That's because green tea can be harmful to dogs. Under normal circumstances they don't need green tea, or any other supplement really, in order to stay in good health.
Can I Give My Dog Green Tea? Answer: No
Green tea contains caffeine, which stimulates the central nervous system, and has the same sort of negative effect that chocolate does.
Everyone knows you're not supposed to give a dog chocolate. It's just as important not to give them green tea.
A high quality dog food, and fresh drinking water is all they need for a happy life. Always keep it simple when you're in doubt about what to give your dog.
Even if it weren't dangerous, dogs just don't need green tea, by their very nature. Green tea is something that is cultivated and brewed by humans, and therefore a dog out in the wild would never be able to consumer it. They get along just fine without it when left to their own devices, so why introduce it into a domesticated dog, just because it's been shown to help us humans out?
Dogs and Caffeine
Dogs should not be given caffeine, and since green tea contains it, it's best to avoid giving it to them. You have to remember that your dog is a very natural animal, so you don't have to go complicating it up like we do with ourselves. In this modern world there will always be something making the news as a cancer-fighter or health booster.
It's a slippery slope and if we start taking supplements and eating every food or drinking every drink that is found to have health benefits, our entire day would be consumed by it and we'd forget to live life. A dog is the same way, they just want to have a good life and have fun. They don't need any extra stimulants like caffeine, and as stated previously, it can be dangerous for them.
Dogs and Cancer
Since green tea contains antioxidants and has been shown to prevent things like skin cancer and other cancers, many people have considered giving it to their dogs as a way for their dog to stay cancer free. But even though dogs too are able to get cancer, it does not mean that you'll be helping to keep them safe from it by giving them something like green tea.
Any Alternatives?
If you're still determined to keep your dog as healthy as you can, and won't rest until they are properly sustained, you can get specially formulated treats that have extra nutrients and minerals in them. This will help give them a shinier coat and better health all around.
But really you don't want to get into the habit of supplementing your dog's diet too much. They really just need a good amount of exercise, some fresh air, and their normal dog food and water. If you want them to have the best, put that money towards a more premium, higher-quality dog food.
Being a Responsible Dog Owner
It's good that you are caring about your dog and thinking about what's best for them. It's also good that you are doing your research before taking a trial and error approach with them. If you want some extra tips about what you can do to improve your dog's health, ask your vet the next time you go in for a check up for Fido.
You can use your dog's previous health history, size, weight, and breed to make a more specific action plan customized for your dog. This is a much better method to follow, instead of looking for a one-size-fits-all treatment.
Add Your Own Answer to the Question Can I Give My Dog Green Tea? Below