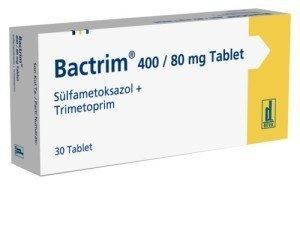 Bactrim is an effective human antibiotic for curing diseases with bacterial origins. This is commonly used to treat urinary tract infections and several other bacterial infections. The drug is very effective in inhibiting the growth of bacteria while also destroying the microorganisms that are currently present in the body's system.
This type of medicine can even be used in treating diarrhea when there are already bacteria present in the body. If you have pet dogs in your house who are also suffering from bacterial infections, you might find it practical to administer Bactrim too.
You know that's it's effective in treating people's diseases, so it's quite natural to assume that it will work for dogs too. But the number 1 question is its safety. It's dangerous to self-medicate dogs, especially if you are using medicines that are really intended for the human species.
Can I Give My Dog Bactrim? Answer: Yes
Yes, you can give Bactrim to your pet dog as long as it is recommended and prescribed by the vet. A lot of animal doctors are giving this medicine to dogs because of its high efficacy rate in curing bacterial infections.
In fact, it is even used in treating other forms of diseases like cystitis. However, as with most types of drugs, you shouldn't give Bactrim to pregnant and lactating dogs. This type of drug is also known to carry side effects, so it is generally not recommended for dogs that are prone to liver and kidney diseases.
Administering a Bactrim Dose
As with all types of drugs (especially people medicines), it is important to give the right amount of dosage to your dog. You need to consult a vet for this, as the medicinal therapy will depend on your dog's general health condition as well as the breed, size, and weight. The particular type of infection will also be considered, as well as your pet's response to said medication. Depending on the initial progress of the drug's effects, your vet may decide to increase or decrease the dosage.
There are several ways to administer this type of medicine to your pet dog. If you are giving the tablet form of Bactrim, you can crush the tablet so that you can mix this with dog food. You also have the option of shoving the pill down the dog's throat if you are used to this method. And if your vet recommends intravenous Bactrim treatment (for serious cases), you will need to bring your pet to the vet's clinic for confinement.
Symptoms of Overdose
You should be very careful when giving people medicines to dogs, as the dosage is not the same for people and canine species. Generally, dogs are given smaller amounts of dosages because they are smaller than people and weigh less than people too. If you mistakenly give an intolerable amount of Bactrim to your pet, it can cause poisoning.
Some of the symptoms of poisoning include diarrhea and vomiting, and there could also be a decrease in appetite. You should also observe for any signs of blood on the dog's stool and urine, as these are signs of internal bleeding. And when you notice that your dog's eyes are becoming yellowish in color, it could even signify liver damage. At this point, it becomes an emergency case, and you should call a vet right away.
Allergy Symptoms
Although Bactrim is effective in treating bacterial infections, it can have many adverse side effects on your dog. Some dogs can develop an allergic reaction to the drug, so you should watch out for symptoms of allergy as well. If you notice that your pet is having some difficulty in breathing, and should there be signs of swelling tongue, lips, and face, then you should stop administering the drug.
Call the vet so that an anti-allergy drug can be given to your dog to treat the condition. You should also encourage your dog to drink plenty of fluids, so that the drug can be flushed out of the system.
Conclusion on Bactrim for Dogs
Vets prescribe Bactrim to dogs all the time, as it is generally safe for the canine breed. However, you should also be aware of its possible side effects so that you can watch out for the symptoms vigilantly. You can also ask the vet for other alternative medications that pose minimal risks to your pet.
Add Your Own Answer to the Question Can I Give My Dog Bactrim? Below